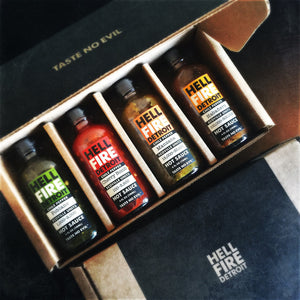 The foursome that got us started.
With each pepper as luscious as the next, this box holds the tools to make any meal richer, deeper, tastier or hotter. For the lucky people in your life, even if that happens to be you!
All-natural, vegan, vegetarian, gluten free and low sodium - Poblano (65mg), Cherry Bomb (120mg), Manzana (60mg), Habanero (70mg). No preservatives, gums, extracts, fat, or sugar.
Shipping & Returns
Shipping > USPS Priority Mail®
1-5 bottles: $9.75 (U.S.)
Orders over $100 = Free Shipping (U.S.)
For larger or wholesale orders, please contact us.
International shipping rates based on country, weight, and value.
For your safety, all sales are final.
Not responsible for lost or stolen packages.