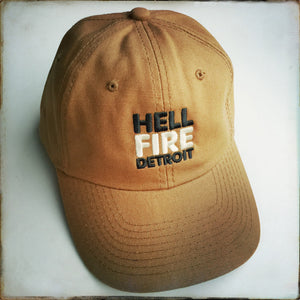 50% chance of rain.
Cap by Outdoor Cap. Garment-washed DUK canvas, unstructured, six-panel, low-profile, pre-curved visor, black under-visor, hook-and-loop closure.
About Duck Hat
Cotton Duck (from Dutch doek,"linen canvas"), also simply duck, sometimes duck cloth or duck canvas — commonly called "canvas" outside the textile industry — is a heavy, plain-woven cotton fabric. There is also linen duck, which is less often used. Duck fabric is woven with two yarns together in the warp and a single yarn in the weft.
By far the most popular workwear fabric, cotton duck is a weighty, plain-but-strong woven canvas. Despite its name, this hardy workwear fabric has nothing to do with waterfowl or their feathers. The term "duck" comes from the Dutch word doek, which refers to a linen canvas once used for sailors' white trousers and outerwear. The word "cotton" has been added to modern duck items simply to distinguish them from traditional linen duck. Interestingly enough, cotton duck is related to another type of work-ready duck. Duct tape, often called "duck tape," was originally manufactured by adding an adhesive backing to regular cotton duck.
You've heard the expression "tougher than nails." Well, cotton duck may be "tougher than sails." The same general type of canvas duck used for many work clothes has been used for traditional boat sails, since the thick cotton weave is incredibly resistant to tearing and rough wear. This workwear fabric is also found in four-walled tents and other shelters. Usually offered in drab colors like unbleached white, tan, and shades of brown or green, cotton duck work clothes generally don't look very dirty even when they are.
Source (edited): Big Duck Canvas