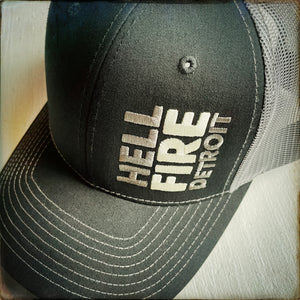 Compliments trucker butts.

Cap by Richardson. 60/40 cotton/polyester, 100% polyester mesh back, structured, six-panel, mid profile, pre-curved contrast stitched visor, underbill matches the color of visor, adjustable plastic snapback.
About Trucker Hat
Trucker hats sometimes called "dad hats" or "gimme hats" originated in the 1960's as promotional give-aways. They were often handed out in rural communities by agricultural supply companies. No doubt you have seen vintage hats made by John Deere who is often cited as being the company that popularized trucker hats.
The foam/mesh construction of the trucker hat proved to be a very practical and functional design for rural workers who often worked in hot sunny conditions. Both farmers and truck drivers began wearing these hats as everyday attire and a fashion trend was born.
By the early 2000's trucker hats became a mainstream fashion trend among American suburban youth. It is generally associated with the hip-hop, punk, and skater subcultures. In more recent history the red baseball cap has been associated with a presidential election. However, if you carefully study media images you will discover that many of those red hats are just plain 6 panel caps and not trucker hats.
Source (edited): corporatecasuals.com